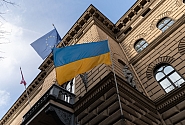 On Thursday, 1 June, the Saeima adopted a statement expressing support for Ukraine at the upcoming NATO Summit in Vilnius and urging for a decision to invite Ukraine to join the alliance.
The parliament considers it vital to use the opportunities offered by the NATO Vilnius Summit in order to jointly recognise the urgency of future decisions and immediate progress, and to extend NATO's support to Ukraine through practical measures, as well as to strengthen the NATO-Ukraine political partnership. The Saeima also calls for the formulation of specific tasks that need to be carried out for the swift integration of Ukraine into NATO.
In the statement, the members of parliament advocate strong and effective assistance to Ukraine from the European Union and NATO allies by providing military, technical, defence, and humanitarian support to Ukraine for as long as necessary to ensure the ability of the state of Ukraine to effectively defend its territory on land, at sea and in the air.
The Saeima welcomes the historic European Council decision of June 2022 to grant Ukraine EU candidate status, and will continue to support Ukraine on its path to EU accession. The parliamentarians highlight that Ukraine has irrevocably set its course towards Euro-Atlantic integration, and support Ukraine's full integration into the North Atlantic Alliance as soon as circumstances allow.
The statement stresses that the Republic of Latvia will continue to provide comprehensive support to Ukraine at government level and as part of municipal, civil society and NGO initiatives, in order to strengthen its resilience against Russia's aggression. The parliament reaffirms its commitment to supporting Ukraine in its reconstruction, in particular in the Chernihiv region.
The Saeima supports Ukraine's initiatives in the UN General Assembly and other UN bodies, and underlines that substantial efforts have already been made at UN level to counter Russia's aggression and the consequences thereof.
Furthermore, in its statement the parliament calls for the sanctions imposed on Russia and Belarus to be strengthened in order to deprive aggressor countries of the financial and technological resources needed to continue the war. The Saeima strongly commits to supporting international efforts to ensure inevitable accountability, and to bring to justice those responsible for war crimes and other grave international crimes committed in the context of the Russian war of aggression against Ukraine, and supports the establishment of an ad hoc international tribunal to prosecute the crime of aggression.
Saeima Press Service