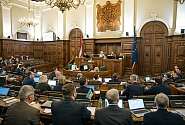 On Thursday, 12 May, the Saeima supported in the second and final reading an urgent Draft Law that stipulates the suspension of the bilateral agreement between Latvia and Russia on memorial buildings and monuments.
The Draft Law suspends Article 3 of the Protocol of the Agreement between the governments of the Republic Latvia and the Russian Federation on the social protection of the military pensioners of the Russian Federation and their family members living in the territory of the Republic of Latvia.
"Russia is purposefully deepening the association between the Russian Federation of today and the Soviet Union—both the rhetoric by state officials and the informative space are full of attempts to justify the actions of the Russian military in Ukraine by the need to eradicate fascism and prevent genocide, equating the so-called 'special military operation' with the Soviet Army," said Rihards Kols, Chair of the Saeima Foreign Affairs Committee, which is responsible for advancing the Draft Law.
"The image and symbols of the Soviet Army are now closely and clearly associated with the Russian aggression and the crimes committed by the Russian Armed Forces in Ukraine. Changes in the geopolitical circumstances and international practice determine that Latvia cannot and will not be obligated to maintain such buildings as Soviet occupation monuments," said the Chair of the Foreign Affairs Committee.
Rihards Kols pointed out that Latvia would continue to honour its international commitments regarding burials and cemeteries.
The Saeima also supported in the final reading an urgent Draft Law that suspends the Agreement between the governments of the Republic of Latvia and the Russian Federation for the avoidance of double taxation and the prevention of fiscal evasion with respect to taxes on income and on capital.
According to the summaries of the draft laws prepared by the responsible committee, the international community, including Latvia, has the right to take counter-measures that would motivate the Russian Federation to end the violations of international law and fully compensate for them.
The agreements or their individual articles will be suspended from 16 May 2022 until the Russian Federation ends the violations of international law regarding Ukraine, including withdrawing its Armed Forces from the territory of Ukraine, fully restoring the territorial integrity and sovereignty of Ukraine in accordance with the requirements of international law, and fully compensating Ukraine for the violations of international law.
The draft laws will enter into force on the day following their promulgation.
Saeima Press Service