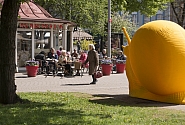 On Thursday, 29 April, the Saeima in the second and final reading supported urgent amendments to the Law on the Management of the Spread of COVID-19 Infection, inter alia, allowing catering services in outdoor spaces from 7 May, as long as the epidemiological safety requirements established by the Cabinet of Ministers are observed.
Depending on the epidemiological situation, the Cabinet reserves the right to suspend the provision of these services for a limited period.
The law also revokes several restrictions established by the Cabinet of Ministers regarding practical driving lessons to obtain category AM, A1, A2 and A driving licence.
According to the explanatory note to the amendments, the adopted changes also extend the range of persons eligible for vaccination against Covid-19. This will allow to ensure preparedness for mass vaccination in case additional vaccination points are created. Vaccination against Covid-19 will be allowed to be carried out not only by certified medical practitioners, but also by medical practitioners who are registered in the Register of Medical Practitioners and Medical Treatment Support Persons. Vaccination will also be allowed to be carried out by medical practitioners with expired registration period for no more than five years, as well as medical assistants.
The amendments also provide monetary bonuses for the employees of the Tax and Customs Police Department and National Customs Board of the State Revenue Service with special service ranks exposed to high risk and high workload related to the outbreak of Covid-19 and prevention of its consequences.
It is also envisaged that the employees of embassies will receive vaccines against Covid-19 paid from the state budget.
The law also provides for shutting down the Vaccination Project Office by 1 June 2021.
According to the amendments, municipalities with several general secondary education institutions are allowed to organise joint admission tests in line with the national standard for basic education and to set admission criteria for school year 2021/2022.
The amendments will enter into force on the day following their promulgation.
Saeima Press Service