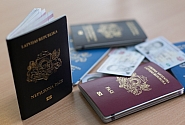 On Thursday, 17 October, the Saeima adopted in the third and final readingthe Draft Law on Termination of Granting the Non-Citizen Status to Children. It stipulates that from 1 January 2020 newborns shall no longer be given the non-citizen status.
"By adopting the relevant changes to the Law, the wish expressed by both the previous and the incumbent president to create a legal framework that would automatically grant citizenship to children, is fulfilled," previously said Artuss Kaimiņš, Chair of the Human Rights and Public Affairs Committee responsible for the progress of the Draft Law in the Saeima.
Starting 1 January 2020, newborns will be granted the citizenship of Latvia unless the parents have opted for the citizenship of another country and the child becomes a citizen of another country. If the child is born outside Latvia or one of the parents is a citizen of another country, in order for the child to be recognized as a Latvian citizen, the parents will have to submit an application and documents to the Office of Citizenship and Migration Affairs certifying that the child is not and has not been a citizen of any other country.
The annotation of the Draft Law specifies that it will affect a small number of children as, according to the data of the Office of Citizenship and Migration Affairs, 47 children were registered as non-citizens in 2016, 51 in 2017, and 33 in 2018.
Saeima Press Service