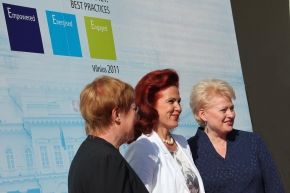 Gallery
On Thursday, 30 June, while taking part in the high-level women's leadership conference on Women Enhancing Democracy: Best Practices, Solvita Āboltiņa, Speaker of the Saeima, said in her address: "Differences between genders can be removed only by changing the way of thinking, by changing the social environment and general attitude towards women's economic, social and political activity."
The Speaker of the Saeima pointed out that prejudices about gender and justice, as well as so-called gender roles have to be erased: "It is my strong belief that such changes cannot be reached with the help of restrictive mechanisms and quotas. Democracy and justice starts in our educated and free minds."
In her address, Āboltiņa stressed that the main milestone for women's expanded future role and economic independence is education and knowledge. "Education and knowledge unlock our potential and open our minds," added Speaker Āboltiņa.
The Speaker of the Saeima stressed that female leaders who serve as good and persuasive examples help to break out of the captivity of prejudices. Solvita Āboltiņa especially emphasised the role of Vaira Vīķe-Freiberga, former President of Latvia, pointing out that she has inspired many people around the world. "By setting a positive example, she has served as a source of energy for other women at moments when they lose heart and life seems to become grey," remarked Āboltiņa.
In her address, Solvita Āboltiņa also shared our country's experience, remarking that women's contribution is important for the wellbeing and sustainability of the nation. The Speaker of the Saeima emphasised that statistically, gender equality looks good in Latvia and that Latvia occupies the high third place in the European Union in the percentage of women leading businesses. "These are women with rich experience, eager to meet challenges and ready to take responsibility not only for business track-records but also for employees and their families, and their well-being," said the Speaker of the Saeima.
The Speaker of the Saeima was invited to Vilnius, Lithuania, by Dalia Grybauskaitė, President of Lithuania, and Tarja Halonen, President of Finland.
The conference is also attended by Hillary Clinton, US Secretary of State; Roza Otunbayeva, President of Kirgizstan; Iveta Radičová, Prime Minister of Slovakia; Margot Wallström, Special Representative of the Secretary General of the UN; as well as other women from around the world – leading officials, world-famous opinion leaders, scholars and journalists.
Address by Speaker of the Parliament of Latvia
Saeima Press Service