The Parliament of Latvia
The Saeima is the Parliament of the Republic of Latvia. There are 100 MPs in the Saeima.
Latvia is an independent democratic republic. The sovereign power of the State of Latvia is vested in the people of Latvia. The people of Latvia exercise their will by electing one hundred representatives to the Saeima. The Saeima and the people have the right to legislate, in accordance with the procedures of and to the extent provided for by the Constitution of Latvia (the Satversme).
The current convocation – the 14th Saeima – started its work in 2022. The first Saeima was elected in 1922.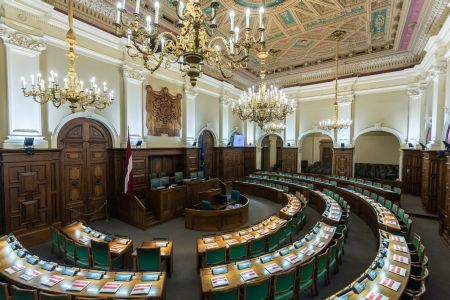 Photo: Plenary Chamber of the Saeima.
In a parliamentary democracy, the representatives of the people constitute the highest branch of power. The Saeima is the only public authority with the right to adopt laws and amend the Constitution of Latvia. The Parliament elects the President of Latvia, approves the government and supervises its work, appoints and approves other high‑ranking state officials. The Saeima has an important role in the development of Latvia's foreign policy. The most important aspects of the Saeima's functions are defined by the Constitution of Latvia, where as the Rules of Procedure of the Saeima were elaborated by the Saeima itself to set out the internal rules regarding its functions and order. These two laws serve as the legal framework for the functioning of the Saeima.
The work of the Saeima is supervised by its Presidium, which is elected by the Saeima. The Presidium consists of five MPs: the Speaker, two Deputy Speakers, the Secretary, and the Deputy Secretary.
One hundred MPs are elected to the Saeima, representing various political parties. MPs elected from the same list of candidates usually form a single parliamentary group in the Saeima. Parliamentary groups provide the political structure of the Saeima. MPs also work in committees and subcommittees dedicated to specific lawmaking areas and sectors or other tasks related to the functions of the Parliament. MPs also elect from among themselves representatives to Latvia's delegations to international parliamentary organisations. MPs may form groups for promoting cooperation with parliaments of other countries or for pursuing some other interests related to their work.
The Saeima of the Republic of Latvia is an open parliament that encourages the participation of the society. The electorate, public organisations, civil society organisations, and all the people of Latvia can follow the work of the Saeima and get involved in the lawmaking process.