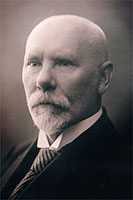 Jānis Čakste
(1859-1927)
President of the People's Council, President of the Constitutional Assembly and the first President of Latvia.
Jānis Čakste was born in Lielsesava on 14 September 1859. He graduated from the Jelgava Gymnasium in 1882, and from the Law Department of Moscow University in 1886. Čakste became the secretary in the prosecutor's office of the Kurzeme Guberniya in the same year and began to work as a lawyer in Jelgava in 1888. There he became actively involved in public life and was elected chairman of three major associations of Latvians. He partially funded the 4th National Song Festival, thus in 1895 it was held in Jelgava.
Jānis Čakste participated in drafting the project of Latvia's autonomy in 1905, and was elected to the First State Council of Russia (Duma) as a representative from Kurzeme in 1906. After the dissolution of the Duma, Jānis Čakste was among the 166 members of the Duma (councillors) who signed the so-called Vyborg Appeal calling upon citizens to refuse to pay taxes and send recruits to the tsar's army until the convening of the Second Duma. For these activities, he was sentenced to three months' imprisonment. In 1915, Jānis Čakste moved to Tartu, where together with other Latvians he founded the Central Committee of Latvian Refugees and became its chairman in 1917. He went abroad to propagate the idea of Latvia's independence in the early 1917; there he wrote a brochure titled Die Letten Und Ihre Latvija. The People's Council of Latvia elected Jānis Čakste as its President in 1918. At the end of the same year, Jānis Čakste formed the Latvian diplomatic corps abroad; he headed the Latvian delegation at the Paris Peace Conference, where the delegation petitioned for the recognition of Latvia's independence.
Jānis Čakste returned to Latvia and became President of the People's Council in July 1919. The Constitutional Assembly elected Jānis Čakste as the President of State, and, in conformity with the provisional laws of the Latvian state, he simultaneously performed the functions of the President of State and those of the commander-in-chief of the army. The 1st and the 2nd Saeima re-elected Jānis Čakste as the President of State. His style of work established the prestige of the President's office. He promulgated 402 laws and pardoned 549 convicted persons.