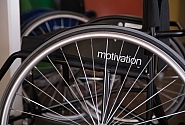 On Thursday, 17 March, the Saeima adopted in the third and final reading a new Law aimed at improving the accessibility of goods and services for persons with disabilities or functional limitations.
"With the adoption of this Law, various goods and services, such as computers and operating systems, self-service terminals—ATMs, ticket machines—, electronic communications services, e-tickets for passenger transport, and internet banking, will become more accessible to persons with disabilities and persons with physical, mental, intellectual or sensory impairments. It will alleviate the daily lives of these people," said Linda Matisone, Chair of the Economic, Agricultural, Environmental and Regional Policy Committee, which is responsible for the progress of the draft law in the Saeima.
The statutory accessibility requirements for goods and services, including in the digital environment, will not only have a positive impact on the integration of people with disabilities in society, but will also benefit a much wider range of people—the elderly, people with perceptual disturbances, reading difficulties, and autism spectrum disorders, as well as people with functional limitations such as fractures, impaired vision or hearing etc.
In addition, the related amendments to the Public Procurement Law and amendments to the Law on the Procurements of Public Service Providers were also adopted in the final reading.
Saeima Press Service