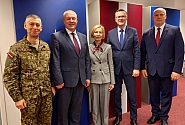 Members of the Latvian delegation to the NATO Parliamentary Assembly (PA)—Head Raimonds Bergmanis, Deputy Head Ainars Latkovskis, and Permanent Representative Irma Kalniņa—are in Brussels until 22 February to discuss current security issues with parliamentarians from NATO countries.
Raimonds Bergmanis and other heads of the parliamentary delegations from the Member States met with NATO Secretary General Jens Stoltenberg and members of the North Atlantic Council in Brussels to discuss security developments, the intensification of assistance to Ukraine, strengthening security on the Alliance's eastern flank, including in the Baltic Sea, as well as issues related to Finland's and Sweden's speedy accession to the Alliance.
Members of the delegations were briefed by the NATO assistant secretaries general for Operations and for Defence Policy and Planning on the latest developments in support of the allies in Ukraine and other countries at risk. Delegates also exchanged views on NATO's new Strategic Concept and the Alliance's role in preserving democratic values and a law-based world order.
Continuing their visit to Brussels, the MPs discuss air defence issues, rising tensions in the Indo-Pacific region, NATO's nuclear policy, adaptation to the new security environment, and responses to new security challenges. They will also address tackling manipulation of information by foreign states, as well as the European Union's climate and energy policies.
The NATO PA is a consultative inter-parliamentary organisation founded in 1955, bringing together parliamentarians from the North Atlantic Treaty Organisation countries. The PA provides an essential link between NATO and national parliaments, strengthens the political dialogue, and promotes public support for Alliance policies.
Saeima Press Service