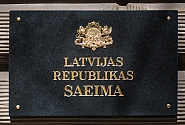 On Thursday, 16 February, the Saeima in the second reading supported the draft Law on the National Defence Service and the related draft laws, which provide for the establishment of the National Defence Service. The first conscription to the National Defence Service is planned on July 1, this year.
According to the draft law, Latvian male citizens are subject to conscription to the national Defence Service within a year after reaching the age of 18. In turn, citizens who continue to acquire education (except for higher education) will be subject to the service within one year after graduation of the educational institution, but not later than until reaching the age of 24. Men and women aged 18 to 27 will be able to apply for the service on a voluntary basis.
The draft law sets out a number of exceptions, where the call to the National Defence Service may be postponed. In specific cases, persons may be exempt from the service.
The draft law provides for several ways of serving in the National Defence Service, e.g., for a period of 11 months in a unit of the regular forces of the National Armed Forces or the National Guard, for a cumulative period of five years in the National Guard, undergoing not less than 21 days of individual training and not more than seven days of collective training each year. As of 1 January 2024, the service will also be performed by completing a reserve officer programme for university college students. Persons subject to the National Defence Service who, due to their convictions or religious beliefs, are not able to perform the military service, will be offered to substitute it with the civil service.
As a matter of priority, when enlisting for the national defence military service, it is planned to first include citizens who have applied for the service on a voluntary basis. To fill the remaining positions, it is planned to conduct conscription based on random selection to be organised in proportion to the number of citizens subject to the service registered in each district. It is planned that until 2027, citizens who are permanent residents of a foreign state and have notified their address of residence in the foreign state to the Office of Citizenship and Migration Affairs will not be admitted to the National Defence Service.
The law also intends to establish accountability for avoiding the service, i.e., to issue a warning or impose a fine of up to EUR 350.
The law is scheduled to enter into force on the day following its promulgation. The draft law of the National Defence Service has yet to be adopted in the third reading.
Saeima Press Service