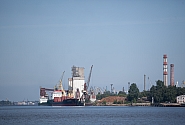 On Thursday, 2 February, the Saeima approved in the final reading urgent amendments that extend the deadline for the dissolution of the free port authorities of Riga and Ventspils.
The amendments provide for the complete dissolution of the Riga Freeport Authority and Ventspils Freeport Authority by 31 December of this year. The amendments are necessary to ensure the continuity of the port management reform.
Linda Matisone, Chair of the Saeima Economic, Agricultural, Environmental and Regional Policy Committee, which is responsible for the progress of the draft law in the Saeima, said earlier that the Committee would continue discussions on the implementation of the port management reform, including the involvement of local governments in the process.
"The Committee agreed on a timetable for the improvement of the port governance reform, with the first phase to be led by the Ministry of Transport," said Matisone.
The Law will enter into force on the day following its promulgation.
Saeima Press Service