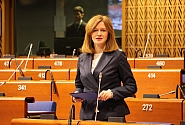 "We realise the pressure that Moldova is facing due to Russia's aggressive foreign policy, and we appreciate Chișinău's resilience against Russia's manipulative actions and the ability to continue implementing reforms despite this," highlighted Zanda Kalniņa-Lukaševica, Deputy Speaker of the Saeima and Head of the Latvian Delegation to the Parliamentary Assembly of the Council of Europe (PACE), while addressing her peers in Strasbourg.
The Head of the Latvian delegation participated in PACE debates on the report on Moldova. She welcomed the fact that the support of the European Union has decreased Russia's influence on Moldova, and highlighted the importance of gaining energy independence from Russia as soon as possible.
Deputy Speaker Kalniņa-Lukaševica pointed out that the implemented reforms have secured a European Union candidate status for Moldova. It is crucial to ensure that the reforms are permanent and sustainable, since this process will define Moldova's position as it integrates into the European Union.
Countries that have valuable and relevant reform experience will continue sharing their knowledge to help promote the implementation of reforms in Moldova, said Kalniņa-Lukaševica, also highlighting that Latvia is ready to continue providing support for Moldova.
The Head of the Latvian delegation to PACE also commended Moldova's contribution in welcoming Ukrainian civilians fleeing the war. "It is an example of humanity, solidarity, and democratic values," highlighted Deputy Speaker Kalniņa-Lukaševica. Over 700 000 people have arrived in Moldova from Ukraine since February 2022, and nearly 100 000 have settled there. This means that Moldova is hosting the highest number of Ukrainian refugees per capita (population 2.6 million).
The report on Moldova was approved during the PACE winter session. The Latvian delegation to PACE took active part in developing the report, with Inese Lībiņa-Egnere, former Head of the Latvian delegation to PACE, listed as one of the authors. It is highlighted in the resolution that since the summer of 2021, Moldovan authorities have started a far-reaching reform programme, especially concerning the judicial system and the fight against corruption, to prevent the usurpation of power and thus restore integrity and public trust in state authorities.
From 23 to 27 January, Strasbourg (France) is hosting the 2023 winter session of the Parliamentary Assembly of the Council of Europe (PACE), featuring the first-ever participation of the 14th Saeima delegation to PACE. On 12 January, the Saeima approved the new composition of the Latvian delegation to PACE and appointed MP Kalniņa-Lukaševica as the Head of the delegation. The PACE winter session is also attended by MP Normunds Dzintars, Deputy Head of the Latvian delegation, MP Ieva Brante, Permanent representative of Latvia, as well as MPs Andris Bērziņš, Edmunds Cepurītis, and Ričards Šlesers.
Saeima Press Service