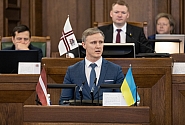 Parliamentary diplomacy is a key in solving such complex challenges as international terrorism, refugee and migrant crises, both "frozen" and "hot" conflicts, and the institutional crisis — truly global problems, requiring multi-faceted, comprehensive response," said the Chair of the Foreign Affairs Committee, Rihards Kols, at the annual foreign policy debate on Thursday, 26 January, stressing that crises have made us realise that we are now living in a world shaped by policy of brute force.
The Chair of the Foreign Affairs Committee applauded the Parliament's active position in Latvia's foreign policy, and welcomed the growing role and importance of parliamentary diplomacy in strengthening international peace and security.
R.Kols pointed out that parliamentary representatives in international organisations play a decisive role in promoting national interests at international level, shaping political priorities, bringing governments to accountability, in ensuring an ever stronger democratic framework to promote peace, cooperation and human rights throughout the world.
"We must not underestimate the impact of the positions defined and publicly voiced by the Baltic national parliaments, including the Latvian Saeima, on the current state of affairs," said the Chair of the Foreign Affairs Committee, highlighting the initiative of the Latvian and Lithuanian parliaments, which contributed to the adoption of a resolution of the Parliamentary Assembly of the Council of Europe, which recognised Russia as a terrorist regime.
"The European Union's response to Russia's military aggression is dependent on effective sanctions, and the long-term legitimacy of the instrument is dependent on its implementation," said R.Kols. The Chair of the Foreign Affairs Committee underlined that the implementation and enforcement of sanctions must become a question of reputation and prestige among the Member States of the European Union, and we must find ways to ensure a more rigorous and uniform enforcement of the sanctions.
The Chair of the Foreign Affairs Committee emphasised the need to continue work on a special tribunal to investigate and prosecute crimes of Russian aggression against Ukraine, as well as to further take part in international litigation against Russia for war crimes and crimes against humanity committed in Ukraine. R.Kols stressed the need to continue to provide political, military, financial, humanitarian and economic support to Ukraine in countering the Russian aggression.
Among the foreign policy priorities, R.Kols mentioned cooperation in the format of both the Baltic States and the Baltic and Nordic States (NB8). R.Kols called for synergistic regional cooperation formats between the Baltic States, Poland and the Nordic countries in the development of common infrastructure, joint defence procurements, and development of the military industry in order to sustainably strengthen the security of the region.
The Chair of the Foreign Affairs Committee highlighted NATO as an essential guarantor of security and defence in Europe, and expressed his support for the European Union's initiatives aimed at expanding military mobility, response and cooperation.
Saeima Press Service