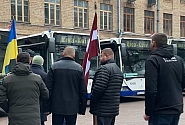 Ten more buses donated by the Riga Municipality have arrived in Kyiv, Ukraine, and on Friday, 13 January, in the presence of a delegation led by Edvards Smiltēns, Speaker of the Saeima, they were officially handed over to the Kyiv Municipality. The buses also brought to Kyiv around 50 tonnes of humanitarian aid donated by the people of Latvia.
The Speaker of the Saeima stressed that Riga was the first city to donate the initial 11 buses to Kyiv in April, a few months after the war broke out. Other European cities now follow suit. Similarly, the Latvian Saeima is taking a leading role in providing political support to Ukraine, condemning Russia's aggression, and encouraging parliaments in other democracies to do the same.
When receiving the Latvian donations, Vitali Klitschko, Mayor of the Ukrainian capital, pointed out that now the population of Kyiv has almost reached its pre-war level—the city has to provide services to 3.6 million inhabitants.
During the war, 150 people have been killed in Kyiv, the city's infrastructure has also been severely damaged, with more than 700 buildings fully or partially destroyed and fire trucks and ambulances needed. Every help counts, stressed Mayor Klitschko. The Ukrainian people are defending their homes and families in this war, the motivation in this fight is huge, and Ukraine will undoubtedly win, said the Mayor of Kiev.
The City of Riga has donated 10 buses of the Rīgas satiksme company for the renewal of the public transport fleet of the Ukrainian capital. The donated buses will an addition to the war-torn Kyiv fleet and provide transport services in a city where trolleybuses and trams cannot run due to power cuts. The buses have also delivered to Kyiv donations of food, household, hygiene and medical supplies essential for Ukrainian residents.
On Friday, the delegation led by the Speaker of the Saeima also saw the devastation caused by the Russian occupation in the Kyiv suburbs of Borodyanka, Bucha, and Irpin.
Speaker Smiltēns on his visit to Ukraine is accompanied by Rihards Kols, Chair of the Foreign Affairs Committee of the Saeima; Raimonds Bergmanis, Chair of the Defence, Internal Affairs and Corruption Prevention Committee; Andris Sprūds, Chair of the European Affairs Committee; and Jānis Skrastiņš, Head of the Saeima Group for Promoting Cooperation with the Ukrainian Parliament.
Saeima Press Service