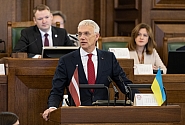 In an extraordinary sitting on Thursday, 14 December, the Saeima gave a vote of confidence to the Cabinet of Ministers formed by Krišjānis Kariņš. Fifty-four MPs voted in favour of the new government, while thirty-seven voted against.
In the newly-approved government headed by PM Kariņš, Ināra Mūrniece will take office as the Minister of Defence, Edgars Rinkēvičs will continue to serve as the Minister of Foreign Affairs, but Ilze Indriksone will take over as the Minister of Economics. Arvils Ašeradens will serve as the Minister of Finance, Māris Kučinskis as the Minister of the Interior, and Anda Čakša will be the Minister of Education and Science.
The newly-formed Ministry of Climate and Energy will be headed by Raimonds Čudars, but the Ministry of Culture will continue to be headed by Nauris Puntulis. The Ministry of Welfare will be headed by Evika Siliņa. Jānis Vitenbergs will serve as the Minister of Transport, Inese Lībiņa-Egnere as the Minister of Justice, Līga Meņģelsone as the Minister of Health, Māris Sprindžuks as the Minister of Environmental Protection and Regional Development, but Didzis Šmits as the Minister of Agriculture.
Declaration of the Intended Activities of the Cabinet of Ministers headed by Arturs Krišjānis Kariņš.
Saeima Press Service