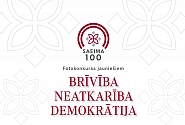 The youth photo contest "Freedom. Independence. Democracy" has concluded, and the 12 best photos have been announced.
Contest-winning photos were taken by Annija Balčūne, Jūlija Kasecka, Martins Levuškāns, Līga Gredzena, Laura Skrūskopa, Sandra Kirilova, Edgars Ancītis, Dinija Daugule, and Laura Kristīne Anšance. Two contestants—Marta Paula Brolīte and Arturs Pīlācis—will be awarded special jury prizes.
The contest was organised to mark the centenary of the Saeima and in preparation for the Lāčplēsis Day. In order to participate, the youths had to take photos to depict our fundamental values—freedom, independence, and democracy—as part of their lives and the life of the state.
The winning photos are to become part of an exhibition that will be opened on 10 November in the Saeima building. The contest winners will have the opportunity to visit the Saeima building and the Patrol Boat Squadron of the Latvian Naval Forces of the National Armed Forces of Latvia.
The winning photos will be published on the website and social networks of the Saeima, the National Armed Forces, the National Guard, and the Young Guard.
The photo contest was organised by the Defence, Internal Affairs and Corruption Prevention Committee of the Saeima in collaboration with the National Armed Forces, the Young Guard Centre, and the House of Jānis Čakste museum.
Winning photos: https://www.flickr.com/photos/saeima/albums/72177720303302821
Photo of the evaluation committee sitting: https://www.flickr.com/photos/saeima/albums/72177720303184231
Disclaimer & Copyright: http://www.saeima.lv/en/copyright
Saeima Press Service