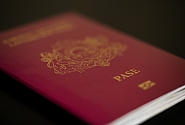 On Thursday, 7 April, the Saeima adopted in the second and final reading urgent amendments to the Immigration Law, suspending the issue of first-time temporary residence to the citizens of the Russian Federation and the Republic of Belarus until 30 June 2023.
The amendments also stipulate exceptions that allow the issue of temporary residence permits. According to the summary of the Draft Law, the exceptions include applications based on family reunification, international protection, employment, studies, or the necessity for study internship, as well as national interests or humanitarian considerations.
The amendments also extend the legal framework of the issue or registration and revocation of residence permits. The Law now stipulates that the issue or registration of residence permits may also be denied in the case the responsible state authorities have found that the foreigner has publicly glorified, denied, or justified genocide, crimes against humanity, crimes against peace, or war crimes. This will also apply if it is found that the foreigner has provided substantial financial, material, propaganda, technological, or other means of support for persons or states that are destroying or posing threat to the territorial integrity, sovereignty and independence, or constitutional order of democratic states, or has himself or herself carried out such activities or otherwise acted against the interests of national security or public order and safety. These amendments also refer to the revoking of temporary or permanent residence permits.
The Law will enter into force on the day following its promulgation.
Saeima Press Service