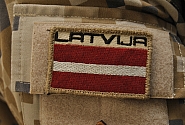 On Thursday, 17 March, the Saeima decided to extend the term of participation of the Latvian National Armed Forces (NAF) troops in the international coalition military operation "Inherent Resolve" directed against terrorist organisation ISIL/Daesh until 1 February 2024.
Latvia joined the international coalition against the terrorist organisation ISIL/Daesh in 2014. The decision of the Saeima on the continued participation of the NAF troops in the international operation confirms Latvia's strong commitment to participate in the fight against terrorism by the international coalition, says the explanatory note to the draft decision.
Within the framework of the current mandate, Latvia has so far participated in the operation with HQ officers who performed their service at the U.S. air base in Erbil, Iraq. According to the explanatory note to the draft decision, the Ministry of Defence plans to maintain the same amount of the NAF troops in the operation — up to 30 soldiers who would perform their duties in the area of operation, including Iraqi and/or Kuwait territories.
The tasks of the NAF contingent will be based on the tasks, objectives and operational needs of the operation, given that the operation focuses on training, counselling, support and exchange of intelligence.
The decision of the Saeima entered into force at the time of its adoption.
Saeima Press Service