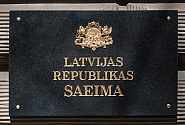 On Thursday, 6 May, the Saeima adopted a statement on the Armenian genocide committed during the Ottoman Empire, commemorating all victims of the Armenian genocide and paying tribute to the survivors.
The Saeima stresses that Latvia condemns all crimes against humanity and acknowledges its obligation to recognise and commemorate these crimes to ensure that they are not repeated.
"The version of the Statement submitted for consideration and approved by the Foreign Affairs Committee was drafted after consulting all stakeholders, diplomats, historians, and researchers and following discussions, analysis, and reflections. The Armenian genocide can never be recognised de jure because, according to the Vienna Convention, it is no longer justiciable. Whether to recognise it is a political decision, and it is not a simple one. Genocide is the most serious crime against humanity that has no statute of limitations. We know what crimes against humanity are, and it is important to remember that other peoples have also had this experience. It is not a matter of quid pro quo, mutual benefit, or inconsequential 'items on the political agenda'," indicated Rihards Kols, Chair of the Foreign Affairs Committee.
The Saeima recognises that, as a result of the actions of the Ottoman authorities, large numbers of Armenians were forcibly deported to other regions of the Empire and, as a result, many lives were lost due to starvation, physical violence, and murder.
MPs condemn the crimes, killings, and forced relocations committed by the Ottoman Empire against the Armenian people. MPs also express their conviction that an open and free discussion on historical matters is indissolubly linked to the formation of healthy and mature democracies.
The Saeima calls on the international community to evaluate these historical events and to turn our eyes to the future that we wish to build free from violence and intolerance – a future in which human rights are respected and every individual can feel free, unthreatened, and safe.
In the Statement, MPs note the importance of commemorating the lives lost in the Armenian genocide organised by the authorities of the Ottoman Empire in the form of massacres and forced relocations, which began on 24 April 1915 with the arrest of Armenian intellectuals and community leaders in what was then known as Constantinople.
The Saeima takes into account the United Nations Convention on the Prevention and Punishment of the Crime of Genocide and the European Parliament's resolution of 18 June 1987 recognising that these events constitute genocide within the meaning of the Convention on the Prevention and Punishment of the Crime of Genocide.
Saeima Press Service