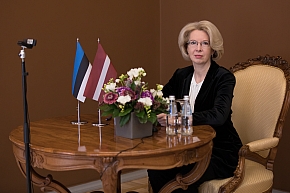 Gallery
"Cooperation and dialogue between our countries is close and active even during the pandemic," said Speaker of the Saeima Ināra Mūrniece on Friday, 19 March, upon remotely meeting and congratulating Jüri Ratas, the new Speaker of the Estonian Parliament, elected the day before.
Estonians and Latvians are close friends and partners, and we have common values ​​and interests, emphasised Mūrniece, commending the excellent bilateral contacts, including between the Parliaments, as well as cooperation at the level of the European Union and NATO.
With regard to the challenges posed by the COVID-19 pandemic, the Speaker of the Saeima reaffirmed Latvia's readiness to assist Estonia. "The situation is alarming. We are ready to provide assistance and, if necessary, admit COVID-19 patients from Estonia to our hospitals," said Mūrniece.
The Speakers of both Parliaments also discussed the high-speed railway project Rail Baltica, as well as the synchronisation of the Baltic electricity networks with the continental European network. Mūrniece underscored the active role of the Baltic Assembly in regional cooperation and the development of our main infrastructure projects, pointing out that cooperation in this format is pragmatic and common values constitute the key to its success.
Mūrniece and Ratas agreed that close contacts between the Speakers of the Latvian, Estonian, and Lithuanian Parliaments should be maintained in order to implement projects of importance to our region.
Photos: https://www.flickr.com/photos/saeima/albums/72157718707827372
Disclaimer & Copyright: http://www.saeima.lv/en/copyright
Saeima Press Service