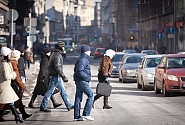 On Thursday, 7 January, the Saeima adopted in the third reading amendments to the Ombudsman Law, stipulating changes in the procedure for selecting the Ombudsman, and the term of office.
According to the amendments, the position of the Ombudsman may be assumed for no more than two consecutive terms. The amendments to the Law will take effect on 1 January 2022, and will not affect the upcoming ombudsman elections.
The explanatory note to the Draft Law states that limiting the number of possible consecutive terms of office in leadership positions is essential for reducing the risk of stagnation, facilitating institutional development, and establishing a pre-requisite for periodical selection of new professionals.
According to the amendments, the Ombudsman is approved in the office by the Saeima based on a nomination by at least ten MPs of the Saeima. Until now, the Law required a nomination by at least five MPs. Additionally, the Law enshrines the existing practice of the nominated candidates attending and addressing a meeting of the Human Rights and Public Affairs Committee of the Saeima prior to the plenary sitting in which the Ombudsman is to be approved.
According to the explanatory note, the amendments aim to ensure higher initial legislative support for the candidate, which would facilitate a more thorough procedure of selecting an ombudsman at the nomination stage.
The Law was also amended to supplement the requirements regarding education of the Ombudsman candidates, stating that the candidates must hold at least a Master's degree or equivalent in accordance with the national regulations, and must be fluent in the Latvian language and at least two foreign languages.
The amendments also revoke the Ombudsman's administrative immunity.
Saeima Press Service