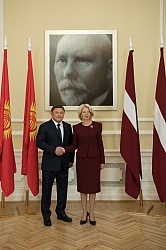 Videos
Gallery
Latvia is ready to share its experience regarding democratic changes and parliamentary work, as well as to support Kyrgyzstan in further reforms, stressed Ināra Mūrniece, Speaker of the Saeima, on Tuesday, 15 October, at the Saeima in the meeting with Dastanbek Dzhumabekov, Speaker of the Kyrgyz Parliament, who is currently on an official visit to Latvia.
Members of the Saeima are interested in increasing cooperation with Kyrgyzstan, as evidenced by the recently founded Group for promoting cooperation with the Parliament of Kyrgyzstan. As underlined by the Speaker of the Saeima, several successful projects are already being carried out together with Kyrgyzstan in the areas of municipal reforms, the development of civil service, interior and judicial reforms, education and border management, and others. Mūrniece also expressed readiness to support Kyrgyzstan in fostering women's participation in democratic processes and public governance.
Both parties discussed the possibility of expanding economic relations, highlighting the "green" technologies as a promising sphere. Entrepreneurs and researchers in Latvia would be interested in improving cooperation in such areas as waste management, water treatment, as well as introducing sustainable and environmentally friendly solutions. The Speaker of the Saeima added that there are also cooperation opportunities in the transport sector, in the development of Europe-Asia connectivity, and pointed out the importance for entrepreneurs of a predictable business environment and the rule of law.
In addition, Mūrniece and Dzhumabekov discussed cooperation opportunities between the European Union (EU) and the Central Asia Region, welcoming the new EU strategy for Central Asia adopted this summer. The Speaker of the Saeima congratulated Kyrgyzstan on the conclusion of the negotiations on the EU-Kyrgyzstan Enhanced Partnership and Cooperation Agreement that will give positive impetus to further cooperation.
On this day, the Speaker of the Kyrgyz Parliament also met Marija Golubeva, Deputy Secretary of the Saeima, as well as Jānis Vucāns, Head of the Latvian delegation to the Baltic Assembly and Member of the Group for promoting cooperation with the Parliament of Kyrgyzstan. The official visit of the Speaker of the Parliament of Kyrgyzstan and his delegation to Latvia will take place until 16 October.
Photos: https://www.flickr.com/photos/saeima/albums/72157711345543901
Disclaimer & copyright: https://www.saeima.lv/en/copyright
Saeima Press Service