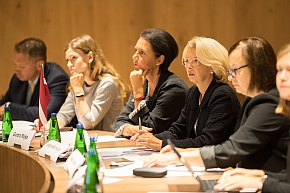 Gallery
"We, the Baltic and Nordic countries, are partners sharing the same mindset who need to work closely together. In this way, we will be able to achieve much more in strengthening the security and well-being of our region," said Speaker Mūrniece on Tuesday, 3 September, addressing the parliament speakers from the Baltic and Nordic countries (NB8) at the annual conference in Tallinn.
The Baltic States and the Nordic countries must take an active part in the European Union (EU) debates on the Eastern Partnership policy beyond 2020. Parliamentarians play a leading role in strengthening democracy and we must use all and every tool the EU provides to help our eastern partners to continue their democratic reforms. Rule of law and gender equality are the values continuously promoted by the NB8 countries. I am sure that strategic communication, support by independent media and promotion of critical thinking and media literacy strengthens the resilience of the society," said the Speaker.
Reiterating the firm position of the delegation of the Latvian Parliament against the restoration of the voting rights of the Russian delegation to the Parliamentary Assembly of the Council of Europe in June, the Speaker of the Saeima called on her colleagues to thoroughly discuss the issues in their parliaments and for the like-minded countries to coordinate actively their further actions. "It's a matter of to what extent are we ready to stand up for the democratic values that constitute the foundation of our cooperation," emphasised Speaker Mūrniece at the conference, noting also that the Baltic region is still facing difficult security challenges. "We witness the targeted build-up by Russia of its military capacities in our region that exceed the level required for defence. We must remain vigilant and continue our cooperation in the field of defence," said the Speaker.
The parliament speakers of NB8 countries also exchanged information on work methods and best practices of their national parliaments.
The NB8 format brings together Denmark, Estonia, Finland, Iceland, Latvia, Lithuania, Norway and Sweden, and it has been providing platform for active cooperation since early 1990s. NB8 hosts regular meetings of members of parliaments, prime ministers and sectoral ministers, as well as other officials and experts from the Baltic and Nordic countries. This year, the cooperation within the framework of NB8 is coordinated by Iceland.
The conference of parliament speakers of the Baltic States and the Nordic countries is held annually in one of the countries of the region.
Photos: https://www.flickr.com/photos/saeima/albums/72157710668774226
Disclaimer & copyrights: https://www.saeima.lv/en/copyright
Saeima Press Service