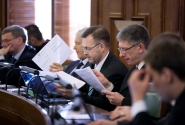 On Thursday, 15 March, the Saeima in the final reading adopted amendments to the Civil Procedure Law according to which courts of cassation will adjudicate civil matters in written proceedings if a decision can be taken on the basis of available materials regarding the case. The amendments will help to reduce the workload of courts, as well as the time needed for adjudicating cases.
The amendments set forth that courts of cassation will examine civil matters at the court sitting only if additional explanations are needed from participants of the case or if the Senate of the Supreme Court deems the case important for interpreting provisions of a law.
The amendments also outline the procedure for adjudicating a case in written proceedings, as well as for drafting and announcing the ruling.
The Criminal Procedure Law already envisages the same procedure for adjudicating criminal cases in written proceedings in a court of cassation. As for the Administrative Procedure Law, amendments that will introduce the same procedure for adjudicating administrative matters have been adopted by the Saeima in the first reading.
According to the Supreme Court, the number of applications received at the Civil Matters Department of the Senate in 2010 has almost doubled in comparison to 2000. The number of adjudicated cases has increased by 40%, and the number of pending cases has increased more than 14 times.
The Supreme Court pointed out that it is not efficient for the courts of cassation to adjudicate all cases in oral proceedings because during a court sitting, the same arguments expressed in the complaint and the same objections stated in the written explanations are repeated.
The amendments will come into force on 1 April 2012.