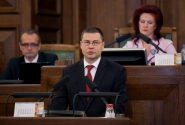 On Tuesday, 25 October, the Saeima during its extraordinary plenary sitting with 57 votes for and 38 votes against once again approved Valdis Dombrovskis as the Prime Minister and gave a vote of confidence to his Cabinet of Ministers.
Dombrovskis has been the Prime Minister since March 2009, and this will be his third term of office as the Prime Minister.
Artis Pabriks will continue to serve as the Minister for Defence, and Andris Vilks as the Minister for Finance in the Cabinet of Ministers that was approved today. From now on, Edgars Rinkēvičs will be the Minister for Foreign Affairs, Roberts Ķīlis – Minister for Education and Science, Žaneta Jaunzeme-Grende – Minister for Culture, Ilze Viņķele – Minister for Welfare and Aivis Ronis – Minister for Transportation. Gaidis Bērziņš will assume the post of the Minister for Justice, and Ingrīda Circene will be Minister for Health. The Ministry of Economics will be headed by Daniels Pavļuts, the Ministry of the Interior by Rihards Kozlovskis, the Ministry of Environment and Regional Development by Edmunds Sprūdžs, and the Ministry of Agriculture will be headed by Laimdota Straujuma.

Saeima Press Service