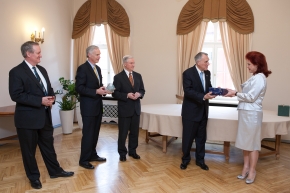 Videos
Gallery
On Wednesday, 20 April, Solvita Āboltiņa, Speaker of the Saeima, met with U.S. senators in the Latvian parliament. She noted that since the renewal of its independence, Latvia has been working to establish close contacts with the United States as a strategic partner that has significantly supported Latvia in achieving its major foreign policy goals. These relations should be further enhanced in various areas, including defence, economy and energy.
U.S. Congress senators Jon Kyl, Ron Johnson, Jeff Sessions and Mike Crapo were on a visit to Latvia on 20 April. Participants of the meeting discussed bilateral relations of Latvia and the United States, the Saeima's cooperation with the U.S. Congress and topical issues of security and defence policy, such as the situation in Afghanistan and U.S. non-military cargo transit to Afghanistan through the port of Riga.
"We have always valued the United States as an important strategic partner that supported Latvia not only on our road to independence but also during all the years of Soviet occupation, when we had opportunities to inform the U.S. Senate about developments in the Baltic republics and to receive support," noted the Speaker at the press briefing after the meeting. She added that the 20th anniversary of the restoration of diplomatic relations between Latvia and the United States will be celebrated in September this year.
Āboltiņa emphasised that strategic cooperation between the two countries has successfully continued after the renewal of independence as the United States stimulated the democratisation of Latvia, supported its economic growth and encouraged its aspirations for full-fledged membership in NATO.
"I am convinced that this visit will lay foundations for continued development of our relations as strategic partners and make them even closer not only in matters regarding security and defence but also economy", said Speaker Āboltiņa.
Senator Kyl pointed out that the U.S. congressmen came to Latvia in order to express unequivocal support to the Latvian people and government, to thank Latvia for its military participation in the mission in Afghanistan and to find out what further support is needed for cooperation between Latvia and the United States in the spheres of defence and energy security.
He stressed that the United States and Latvia have many opportunities to deepen their cooperation. As examples, he mentioned cooperation in ensuring Latvia's energy independence and broader use of Latvia-produced supplies to U.S. soldiers deployed in Afghanistan.
The Senator also commended Latvia's achievements in overcoming the economic crisis. He expressed the opinion that Latvia chose the right way to resolve its financial deficit problems as indicated by signs that Latvia's economy is starting to recover after the recession.

Photos from the meeting are available at: https://www.flickr.com/photos/saeima/5637475992/in/set-72157626413363089/
Video from the meeting is available at: https://www.youtube.com/saeimaSAB#p/a/u/0/sBpSvgihGpU
When using the material, please give credit to the Saeima Chancellery.
Saeima Press Service