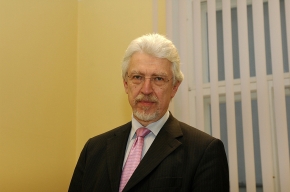 Gallery
In a letter to Ojārs Kalniņš, Chairman of the Foreign Affairs Committee, Hillary Rodham Clinton, the U.S. Secretary of State, thanks him for taking part in the visit of the Latvian Minister for Foreign Affairs to the U.S. in February 2011.
"The United States values its partnership with Latvia, and I remain grateful for your continued efforts to strengthen our countries' close cooperation," says the letter of the Secretary of State to the Chairman of the Foreign Affairs Committee.
Hillary Clinton also expresses her gratitude for the special gift, a genuine loaf of traditional Latvian rye bread which she received from Ojārs Kalniņš during the visit. "I would also like to thank you for the delicious rye bread, which is always such a treat to receive. Your thoughtful gift will serve as a warm reminder of the enduring friendship between Latvia and the United States," she writes.
Kalniņš points out that this atypical gift for Clinton has a long history. "Back in 1994, when Hillary Clinton was visiting Latvia as First Lady together with President Bill Clinton, she praised the bakers who make rye bread in Latvia. Later when I was ambassador of Latvia to the U.S. and met with Hillary Clinton, who by then was a Senator, I gave her a book on bread-making traditions in Latvia. This time, as I was going to Washington to meet with Secretary of State Hillary Clinton, I took a loaf of genuine Latvian rye bread with me," says Kalniņš, explaining that such unofficial gestures have great significance in diplomacy.