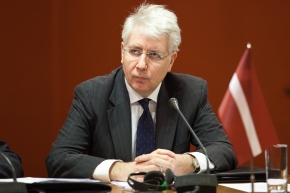 Gallery
In order to put an end to bloody clashes between opposition forces and forces loyal to Muammar Gaddafi, closer cooperation between NATO and the European Union is needed, thinks Imants Lieģis, Chairman of the European Affairs Committee and Head of the Latvian delegation to the NATO Parliamentary Assembly.
On Wednesday, 9 March, the European Affairs Committee will review Latvia's position, which will be presented at the extraordinary Foreign Affairs Council meeting on 10 March and the extraordinary meeting of the European Council on 11 March, where ministers of foreign affairs and heads of state or government of the EU member states will address the situation in the southern neighbouring countries of the EU, including Libya.
"This will be a splendid opportunity for the EU and NATO to cooperate closely on resolving the crisis in Libya because on 10 and 11 March parallel meetings at the EU and NATO will be attended by ministers of foreign affairs, ministers of defence and heads of state or government. It is also good news that Catherine Ashton, High Representative of the European Union for Foreign Affairs and Security Policy, will participate at the NATO defence ministers' meeting," indicated Lieģis.
Lieģis is gratified by the democratic changes that have taken place over the recent months in the Arab countries of northern Africa; however, he is also concerned about the possible future escalation of violence in Libya. "It is necessary to support human rights in this country, and therefore NATO should consider enforcing a no-fly zone over Libya."

Saeima Press Service