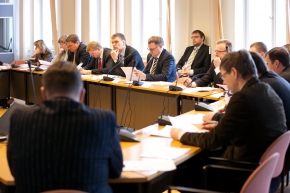 Gallery
On Wednesday, 2 March, members of the Economic, Agricultural, Environmental and Regional Policy Committee of the Saeima supported and submitted for the second reading the amendments to the Competition Law which will force retailers that are in a dominant position to shorten deadlines for their settlement of payments with manufacturers.
The draft law prepared by the Committee sets forth that payment for delivered food products should be settled within 30 days of delivery. Otherwise, the settlement period will be deemed unfair and unreasonably lengthy.
The current version of the Competition Law indicates that one sign of the abuse of a dominant position in retail sales is unfair and unjustifiably lengthy settlement periods. So far, a specific settlement period was prescribed only for perishable food products; that is, the payment period for food products with a shelf life of less than 20 days should not exceed 30 days.
Committee member Dzintars Zaķis (Unity) justifies the need for this amendment by pointing out that after this regulation regarding settlement of payment for food products with a short shelf life was adopted, the situation in this area of retail sales was soon brought under control, but as far as other food products are concerned, retailers often have much longer deadlines for settling their accounts with suppliers.
In order to ensure that the requirement to settle payments within 30 days applies not only to retail chains that are in a dominant position but also to other retailers, we will have to return to the concept of having a single law on trade, Zaķis pointed out.
Today the members of the Committee agreed to add transitional provisions to the draft law before the third reading so that retailers have enough time to get ready for the new rules.
The Draft Law on the Amendments to the Competition Law is still awaiting a plenary vote on the second and third reading.
Saeima Press Service