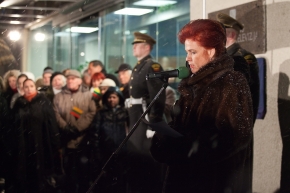 Gallery
The Baltic States are facing challenges that need to be addressed at the regional level, thus strengthening of cooperation with the closest neighbouring countries should be a priority. This was emphasised by Solvita Āboltiņa, Speaker of the Saeima, during the official lunch with Irena Degutienė, Speaker of the Lithuanian parliament on Wednesday, 12 January.
Āboltiņa affirmed that the close relationship between the Latvian and Lithuanian parliaments should be continued in the future; this is why Lithuania was selected as the destination of her first official visit abroad since assuming the position of Speaker of the Saeima. A visit to Estonia is planned to follow.
"Global economic processes, energy security, sustainable solutions of environmental issues and competitiveness – these are only some of the matters that have to be addressed by our legislators. We, the parliamentarians, have to promote, encourage and supervise cooperation between our countries, in order to increase the level of welfare and security," said Speaker of the Saeima.
The parties agreed that the aforementioned issues cannot be resolved at the local or national level. They have to be addressed through cooperation by engaging in regional forums such as the Baltic Assembly and the NB8 (the Baltic and Nordic States), as well as in collaboration with our partners in the European Union and NATO. Speaker of the Saeima emphasised that "we will succeed through close cooperation with our closest neighbours – Lithuania and Estonia".
"This year both Lithuania and Latvia are commemorating important anniversaries dedicated to the freedom fighters who twenty years ago were prepared to protect our independence with their bare hands and passionate hearts. The chilly days of January once again bring back memories of the time when the fates or our nations were uncertain and we had to take a stand for our state and our freedom," said Āboltiņa during the meeting.
From 11 to 12 January, Speaker Solvita Āboltiņa is paying an official visit to Lithuania. In Vilnius, Solvita Āboltiņa is scheduled to meet with Lithuania's top officials and to participate in events commemorating the Barricades of 1991. This is the Speaker's first visit abroad.
During her visit, the Speaker is accompanied by Andrejs Klementjevs, Deputy Speaker, as well as Jānis Reirs, Chairman of the Budget and Finance (Taxation) Committee and Head of the Latvian delegation to the Baltic Assembly.
Saeima Press service