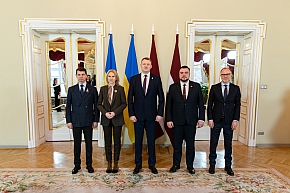 Galerija
"Latvia is providing comprehensive assistance to Ukraine and there is strong, unwavering support in society, including on a practical level. Latvia will support Ukraine until its absolute victory. Russia must be held accountable for these bloody atrocities. The guilty must be punished. It is a question of whether the world will be governed by the power of law or the law of power," said Edvards Smiltēns, Speaker of the Saeima, meeting Olena Kondratiuk, Deputy Speaker of the Verkhovna Rada (Parliament) of Ukraine on Monday, 20 February.
"Vladimir Putin is trying to extinguish the light in Ukraine, to extinguish lives, but we must not allow it," said Smiltēns, adding that at the opening of the "Light to Ukraine!" campaign, the Ukrainian flag was hoisted next to the Latvian flag in front of the Saeima and the Latvian Parliament was illuminated in the colours of the Ukrainian flag during the dark hours of the day.
Kondratiuk thanked Latvia for its comprehensive support, specially mentioning the military assistance. The aid to Ukraine has reached one per cent of our country's gross domestic product. Latvia has taken a leading role in assistance and can serve as a shining example for other countries, said Speaker Kondratjuk.
"We have laid the fundamental foundations for close friendship between Latvia and Ukraine. Latvia supports Ukraine's accession to the European Union and NATO," said the Speaker of the Saeima, stressing his commitment to keeping this issue on the international agenda.
Olena Kondratiuk highlighted the visit of the Saeima Speaker to Ukraine last month, during which the Latvian delegation also visited the Chernihiv region, which had suffered significant damage to its infrastructure during the Russian occupation. Latvia is assisting in the reconstruction of the area, including by supplying building materials for the reconstruction of residential buildings in the village of Yahidne.
The parties discussed what more should be done to force Russia to retreat and to ensure that Ukraine wins and regains its territories. Smiltēns and Kondratyuk discussed the establishment of an international tribunal to hold Russia accountable. They also discussed work on a legal framework that would allow frozen Russian assets to be used to rebuild Ukraine, as well as reparations that could contribute to Ukraine's recovery.
Discussing the need to isolate Russia from any international activities, the Speaker of the Saeima stressed that Russia weaponises everything, even culture and sports. Smiltēns and Kondratjuk agreed that it would be unacceptable for Russian athletes to participate in next year's Olympics in Paris, even if they were competing under a neutral flag.
Along with the Speaker of the Saeima, at the Latvian Parliament Olena Kondratjuk also met Jānis Grasbergs, Deputy Speaker of the Saeima, and Andris Sprūds, Chair of the European Affairs Committee.
Photos: https://www.flickr.com/photos/saeima/albums/72177720306151973
Disclaimer & Copyright: http://www.saeima.lv/en/copyright
Saeima Press Service