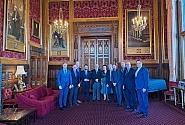 "At a time when the divide between democracies and authoritarian regimes is growing more and more apparent, as we witness increasingly severe attempts to disrupt the security, stability, and unity of democratic countries, inter-parliamentary cooperation is of crucial importance, especially concerning foreign affairs and security matters. Democratic countries must cooperate; it is the only way to prevail in this struggle—by giving a united and powerful response to the challenges and issues we are facing today," underlined Rihards Kols, Chair of the Foreign Affairs Committee of the Saeima, in London, the United Kingdom, during a conference on European security.
The conference was hosted by the Foreign Affairs Committee of the House of Commons of the UK with the aim of engaging in open parliamentary dialogue on topical regional security issues and further cooperation in other areas.
Members of foreign affairs committees discussed the geopolitical consequences of Russia's illegal and unprovoked invasion in Ukraine and a mutually coordinated response to the war in Ukraine. In addition, conference participants discussed topical issues concerning relations with China, as well as stability in the Western Balkans.
Rihards Kols highlighted the priorities for further parliamentary‑level cooperation: "It is clear that constructive cooperation in this and other formats must be developed actively and frequently. During the London conference, we ascertained that there was consensus among us as to our greatest challenges and how they could be resolved. There is much broader awareness and readiness to react strongly to external attempts at disrupting the international system and societal stability."
Moreover, conference participants adopted a statement in support of Vladimir Kara-Murza. In the Statement, the chairs of the foreign affairs committees strongly condemn the Russian court decision sentencing one of the leading opposition politicians and Kremlin critics to 25 years in prison. The conviction is contrary to Russia's international obligations and human rights, including the right to a fair trial, and the Statement calls for Vladimir Kara-Murza's immediate and unconditional release.
"This Statement sends a clear message: European democracies are united in their readiness to firmly stand against authoritarian and tyrannical regimes that respect neither international nor human rights norms. Vladimir Kara-Murza's sentencing is a gross human rights violation and yet another evidence of Russia's chosen path towards restoring the complete lawlessness and nihilism characteristic of the Stalinist era," explained Kols.
The foreign affairs committee chairs of the parliaments of the UK, the Czech Republic, Denmark, Estonia, Iceland, Ireland, Latvia, Lithuania, Poland, Slovakia, and Sweden participated in the conference.
Saeima Press Service