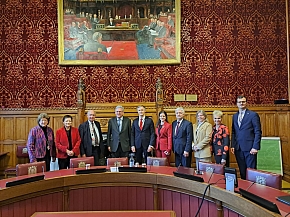 Gallery
On Wednesday, 22 February, in London, Members of the Saeima met with Nigel Evans, Deputy Speaker of the House of Commons of the United Kingdom, to discuss Latvian-UK security cooperation, as well as the political, financial, and military support for Ukraine provided by the two countries. The Saeima delegation is currently on a visit to the Parliament of the United Kingdom of Great Britain and Northern Ireland to strengthen bilateral relations.
"The current challenges of our like-minded countries are almost identical—inflation, energy crisis, the need to support citizens in coping with the high cost of living and to continue providing comprehensive support for the Ukrainian state," said Antoņina Ņenaševa, Deputy Secretary of the Saeima. Ņenaševa also highlighted the close connection between the two countries due to the Latvian diaspora in the UK and underlined the need to continue the ongoing successful cooperation even after the withdrawal of the UK from the European Union.
Rihards Kols, Chair of the Foreign Affairs Committee of the Saeima, noted that, even after Brexit, the UK remains an important security partner for Latvia and an ally in Europe as well as a significant trade partner. "Our countries are united in their understanding about security threats and challenges in Europe. The United Kingdom is a close and like-minded ally within NATO," stated Kols.
Members of the Latvian Parliament and Nigel Evans also discussed the economic cooperation of the two countries, including the implementation of green innovation and technology.
MPs Ņenaševa and Kols are accompanied on the visit to London by Gatis Liepiņš, Secretary of the Housing Subcommittee of the Public Administration and Local Government Committee; Aiva Vīksna, Secretary of the Budget and Finance (Taxation) Committee; Jānis Vucāns, Chair of the Mandate, Ethics and Submissions Committee and head of the Latvian delegation to the Baltic Assembly; and MP Viktorija Pleškāne.
During the visit to the UK Parliament, the Members of the Saeima also met with James Heappey, Minister of State for the Armed Forces, as well as members of the Foreign Affairs Committee, European Affairs Committee, Digital, Culture, Media and Sport Committee, and Defence Committee.
Saeima Press Service