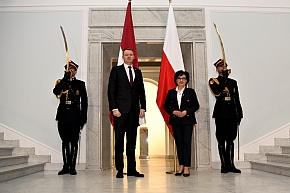 Gallery
One hundred years ago, Polish and Latvian soldiers fought the Red Army side by side to free the Latgale region and defend the newly established Latvian state. Today we are close allies and strategic partners, standing guard over the values that laid the foundation of our countries, noted Edvards Smiltēns, Speaker of the Saeima, in Warsaw, during a meeting with Elżbieta Witek, Marshal of the Sejm of the Republic of Poland. A delegation led by the Speaker of the Saeima is currently on an official visit to Poland.
The Baltic states, Poland, and the Czech Republic are those countries that can best understand Russia's tactics in its war against Ukraine, acknowledged the meeting participants. While Western Europe advocates for peace no matter what it takes, we understand that the only way to achieve true peace is through a Ukrainian victory and holding Russia accountable, underlined the Speaker of the Saeima. Putin will not stop, unless he is stopped in Ukraine. Therefore, we must continue providing all the possible military, diplomatic, and humanitarian assistance.
Marshal Witek proposed to hold regular meetings of Baltic and Polish parliamentarians to respond to current challenges and form a common position in matters important for the region. Speaker Smiltēns affirmed the great interest of the new convocation of the Saeima in cooperation with Poland, as one fifth of Latvian MPs have joined the newly formed Group for promoting cooperation with the Parliament of Poland.
The Speaker of the Saeima emphasised the long history of the ties between the two countries also through the large Polish community in Latvia. There are approximately 40 thousand Poles living in our country, and they are active participants in life in Latvia who foster their own culture and language and at the same time express support and show loyalty to Latvia and its foreign policy goals.
Edvards Smiltēns and the delegation led by him are currently on a visit to Poland where they are also to meet with Tomasz Grodzki, Marshal of the Senate, and Robert Telus, Chair of the Polish-Latvian parliamentary cooperation group.
The Speaker's delegation to Poland is comprised of Rihards Kols, Chair of the Foreign Affairs Committee of the Saeima, Juris Viļums, Deputy Chair of the Committee, and Irma Kalniņa, Secretary of the Committee, as well as Andris Sprūds, Chair of the European Affairs Committee, and Linda Matisone, Chair of the Economic, Agricultural, Environmental and Regional Policy Committee.
Photos: https://www.flickr.com/photos/saeima/albums/72177720304594332
Disclaimer & copyright: https://www.saeima.lv/en/copyright
Saeima Press Service