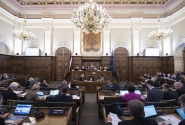 On Thursday, 31 March, the Saeima adopted a statement condemning the conviction based on falsified evidence and politically motivated accusations of Nadiya Savchenko, member of the Ukrainian parliament and air force pilot.
The statement emphasises that by kidnapping, illegitimately relocating across the internationally recognised borders of Ukraine, and illegally detaining Nadiya Savchenko, the Russian Federation has violated international laws.
The statement also expresses concern about the critical health condition of Nadiya Savchenko, and urges the Russian Federation to immediately release her pursuant to its international commitments and the Minsk Agreements that provide for the release of all political hostages and illegally detained individuals, as well as due to humanitarian considerations.
The Russian Federation is also urged to release other illegally detained Ukrainian citizens, as well as to ensure adherence to the principles and human rights enshrined in the Charter of the UN, especially in light of the Russian Federation being a member of the UN Security Council.
The statement urges the international community to condemn the conviction of Nadiya Savchenko, and calls for the Russian Federation to adhere to its international commitments and to immediately release Nadiya Savchenko and other illegally detained citizens of Ukraine.
Saeima Press Service