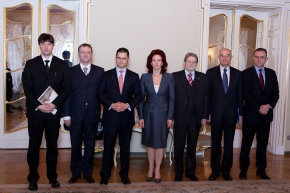 Gallery
On Friday, 2 March, Solvita Āboltiņa, Speaker of the Saeima, met with Vuk Jeremić, Minister for Foreign Affairs of the Republic of Serbia. During the meeting, the Speaker pointed out that the previous day's decision of the European Council to grant Serbia the status of an official candidate to the European Union (EU) was significant not only for the Balkans but for all of Europe.
As she welcomed the Minister to the Saeima, Speaker Āboltiņa expressed gratification for the decision adopted on the previous day at a summit of the heads of state and government of the European Union to grant Serbia the status of a candidate country.
"Latvia has consistently supported enlargement of the EU, including the aspirations of Serbia to join the European Union. I believe that the decision of the European Council is both a positive signal to the Western Balkans and an important event in the process of European integration," said Āboltiņa.
The Speaker was convinced that although the EU is facing challenges of the recession, the Union will be able to overcome these difficulties in the long term. Latvia's recent experience shows that it is possible to come out of crisis and renew economic growth, stressed Āboltiņa.
When addressing the possible ways to develop interparliamentary relations, the Speaker suggested exchanges between the foreign affairs and European affairs committees of both parliaments as the best cooperation format. Solvita Āboltiņa attested that the Saeima is ready to share its experience gained during accession to the EU and NATO.
Participants of the meeting agreed that bilateral relations of Serbia and Latvia are good, but they have great unused potential. "I am certain that your visit will be an impetus for further strengthening of ties between our countries and will contribute to the cooperation of the Baltic and the Balkan region," noted Āboltiņa.

Photos from the meeting are available at: https://www.flickr.com/photos/saeima/sets/72157629130592798/with/6800083660/
When using the material, please give credit to the Saeima Chancellery.

Saeima Press Service