Accessibility at the Saeima
The Parliament of Latvia is open to all members of society and is working to ensure accessibility for people with mobility and other functional impairments, including wheelchair users.
The Saeima is located in historic buildings of high cultural and historical value. Particular attention is paid to the accessibility of the buildings, while also preserving their heritage. Accessibility is provided in all buildings of the Saeima, so that visitors, including wheelchair users, can access all meeting rooms independently.
The Saeima buildings
The Parliament of Latvia is located in five buildings in the heart of Riga – the old town.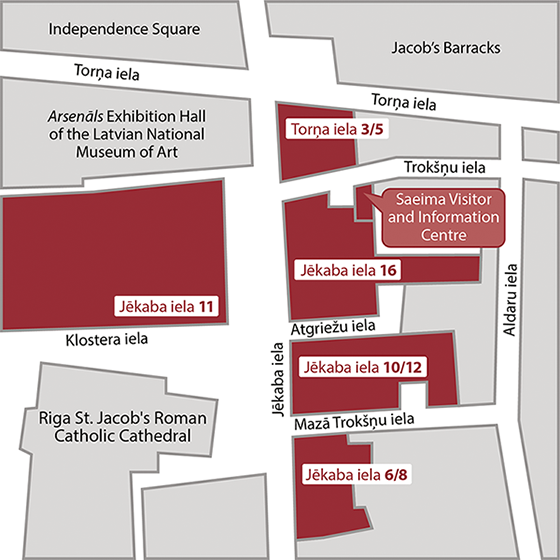 The main building of the Saeima is located on Jēkaba iela 11. It contains the Plenary Chamber, rooms for representation purposes, offices of the Speaker of the Saeima, the Presidium, and the staff of the Saeima. The main building is used for hosting guests, organising meetings, conferences, and other events.
Across the street from the main building, there are four more buildings, located on Jēkaba iela 6/8, Jēkaba iela 10/12, Jēkaba iela 16, and Torņa iela 3/5. Committee meeting rooms, the Saeima Visitor and Information Centre, and offices of MPs and the Saeima staff are located in these buildings.
Access to the buildings
Wheelchair users have easy access to the main building of the Saeima from the entrance on Jēkaba iela, where a spacious, convenient ramp has been installed. The cobblestone sidewalks in front of the other buildings of the Saeima have dropped kerbs to provide better access for wheelchair users.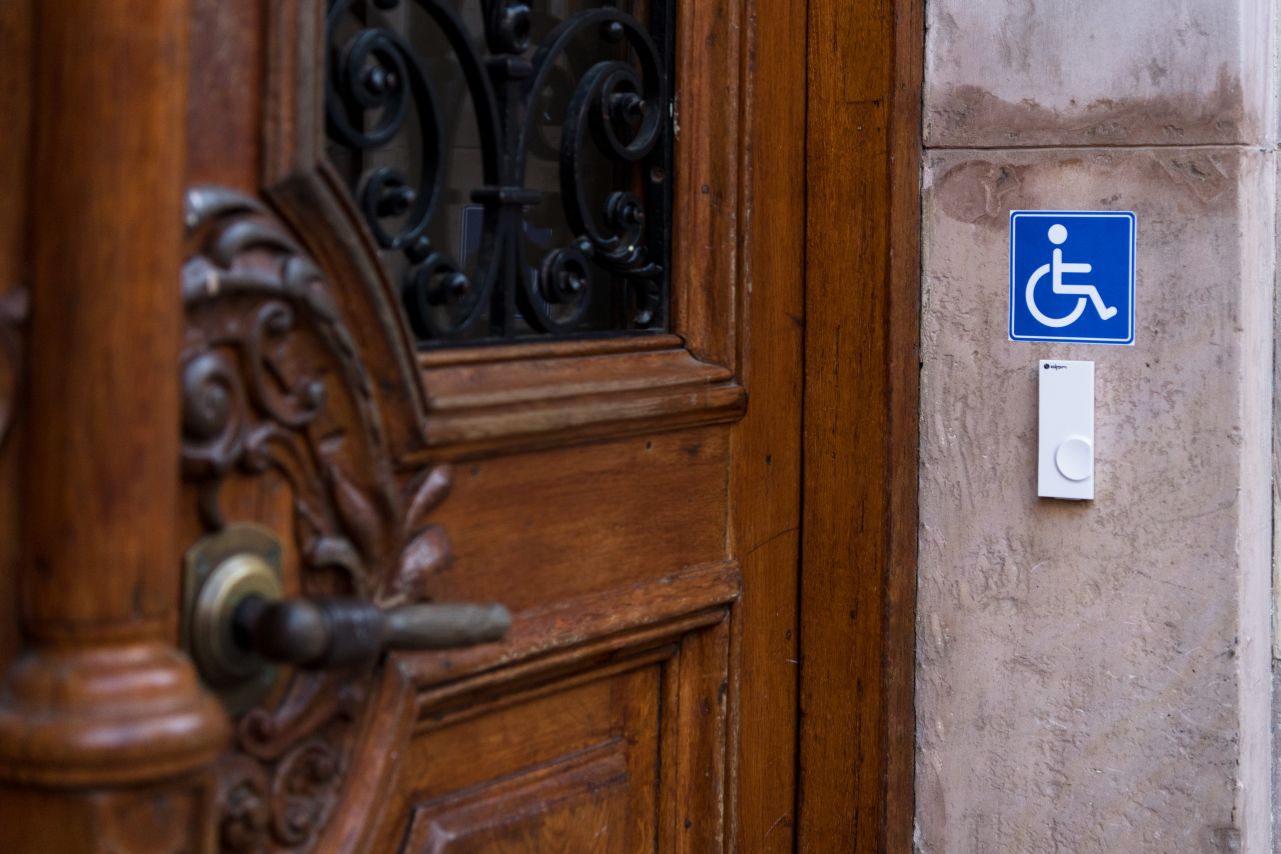 There are assistance buttons near the entrances of the Saeima buildings for people with impaired mobility or wheelchair users, so that they can easily enter the Saeima.
There are lifts, including wheelchair lifts, in all buildings of the Parliament.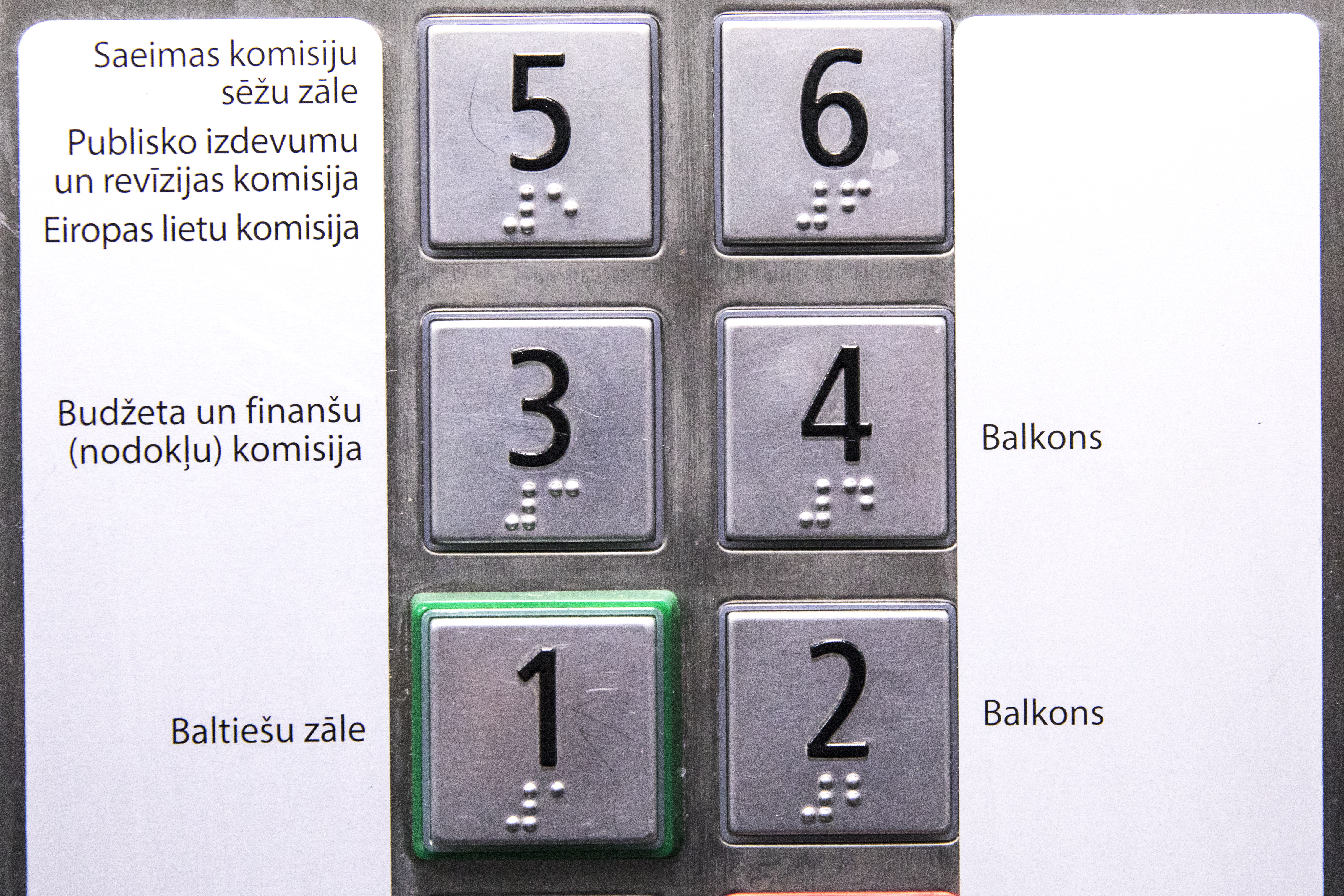 Some lifts (in Jēkaba iela 11 and Jēkaba iela 6/8) are equipped with speakers that announce the floor number. Information in braille is provided on the control buttons.
The number of each floor is marked on the handrail next to the first and last step of the flight of stairs in the Saeima building on Jēkaba iela 6/8.
All public corridors in the Saeima building on Jēkaba iela 6/8 are at least 1.5 metres wide. The corridors have level floors.
Accessible bathrooms are located in all buildings of the Saeima. In Jēkaba iela 6/8, accessible bathrooms are available on every floor of the building.
Please take note that some rooms are not easily accessible in a wheelchair. Should you have any questions regarding the accessibility of a specific room, please contact the Saeima staff responsible for organising the particular event.
Accessible parking at the Saeima
Upon making arrangements with the Saeima staff member organising the particular event or Committee meeting, people with impaired mobility arriving in motor vehicles may leave their vehicle at the Saeima parking for the duration of their visit.