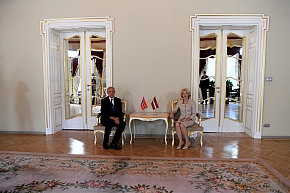 Galerija
"We highly appreciate Norway's contribution to the close cooperation within the Baltic and Nordic—the NB8—format," said Ināra Mūrniece, Speaker of the Saeima, during her meeting with Kristian Ødegaard, Ambassador Extraordinary and Plenipotentiary of the Kingdom of Norway to the Republic of Latvia, who paid his farewell call to the Parliament of Latvia on 10 August.
"The Baltic—Nordic cooperation format brings together like-minded countries with shared values," said Speaker Mūrniece while discussing the upcoming Latvian presidency of the NB8 in 2023. The Speaker of the Saeima stressed that regional cooperation within the NB8 format offers broader opportunities to strengthen practical cooperation between the countries, including through joint projects.
While discussing the security situation, Speaker Mūrniece highlighted that security cooperation is crucial in a situation where Russia is trying to gain new spheres of influence by attempting to divide the European Union and NATO. Speaker Mūrniece also appreciated Norway's contribution to NATO's deterrence and defence efforts in the Baltic region, including the Baltic Air-Policing Mission.
The Speaker of the Saeima highly appreciated the opportunities provided by the Norwegian Financial Mechanism, especially in research and education, and the economic cooperation between the two countries, including investments in Latvian economy. Speaker Mūrniece expressed hope that in the future, Latvia will attract further investments in ICT, infrastructure, green transition, and energy projects.
"It is important to support Ukrainian refugees in Latvia through our bilateral cooperation funds," stated Speaker Mūrniece while discussing the future priorities of the Norwegian Financial Mechanism with the Ambassador. Both parties shared similar views on the need for active involvement in the recovery of Ukraine.
The Speaker of the Saeima thanked the Ambassador for his personal contribution to strengthening the relations between Latvia and Norway, including through the promotion of parliamentary and political dialogue. Kristian Ødegaard has been the Ambassador of Norway to Latvia since 2018.
Photos: https://www.flickr.com/photos/saeima/albums/72177720301188716
Disclaimer and copyright: https://www.saeima.lv/en/copyright
Saeima Press Service