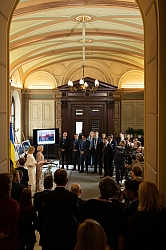 Video
Galerija
"This exhibition is a testimony to the selflessness and heroism of Ukrainian photojournalist Maks Levin in the line of duty and encourages us to bow our heads once again before the Ukrainian soldiers and the Ukrainian people who defend their country every day with all their might," said Ināra Mūrniece, Speaker of the Saeima, as she opened the photo exhibition "Russian military invasion of Ukraine. Chronicles of 2022: Beginning."
Speaker Mūrniece pointed out that it was Ruslan Stefanchuk, Speaker of the Ukrainian Verkhovna Rada, who came up with the initiative to use the main building of the Saeima for exhibiting the works of the Ukrainian journalist and documentary photographer Maks Levin that were taken during the first days of the war waged by Russia in Ukraine. The Three Seas Initiative Summit is an opportune moment to open the exhibition, as it brings together participants from countries united in their desire to strengthen democracy and resist Russia's brutal aggression here in Europe, stressed the Saeima Speaker.
Mūrniece expressed her condolences to Levin's family, colleagues, and associates. May his memory and deeds serve as inspiration for a safer Europe and may the future bring victory for Ukraine, said Speaker Mūrniece.
Levin's photographs reveal the harsh truth about Russia's war in Ukraine. He fulfilled his professional duty until the end of his life, documenting the brave Ukrainian soldiers who defend both Ukraine and entire Europe's democracy. We are paying a high and terrible price to be in Europe, said Olena Kondratiuk, Deputy Speaker of the Ukrainian Verkhovna Rada, at the opening of the exhibition.
During the first five days of the full-scale war, Maks Levin managed to publish photo essays from at least seven hotspots in different parts of Ukraine—from Kharkiv to Vasylkiv—as well as from several settlements near Irpin and Zhytomyr. On 13 March 2022, he went missing. It was later revealed that Maks Levin had died in the line of duty, killed by two deliberate shots fired by Russian invaders. After his death, Maks Levin received a Ukrainian state award for bravery and determination in documenting the Russian aggression.
The exhibition was initiated by the Ukrainian Verkhovna Rada and is supported by the Saeima and the Embassy of Ukraine in Latvia.
Photos: https://www.flickr.com/photos/saeima/albums/72177720299961926
Disclaimer and copyright: https://www.saeima.lv/en/copyright
Saeima Press Service