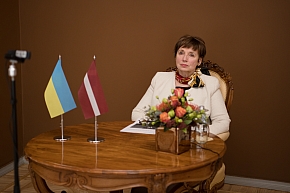 Galerija
"We wish Ukraine the strength to continue resisting Russia's aggression. You can count on Latvia's unwavering support for the sovereignty and territorial integrity of Ukraine. Do not lose sight of the compass that will guide your way to Europe," said the Deputy Speaker of the Saeima Dagmāra Beitnere‑Le Galla on Thursday, 25 February, during a remote meeting with Olexandr Mischenko, Ambassador Extraordinary and Plenipotentiary of Ukraine to the Republic of Latvia.
Tomorrow, on 26 February, we will commemorate the Day of Resistance to Russia's Occupation of Crimea, said the Deputy Speaker, expressing support on behalf of Latvia to the people of Ukraine. The Ambassador emphasised that, thanks to the support of Latvia and other countries, Ukraine can fight not only for its independence, but also for European values in the territory of Ukraine.
In addition, the Ambassador expressed his gratitude for the opportunity provided to young Ukrainian people to study in Latvia, underlining that knowledge is the path to a new Ukraine. "It is crucial for young people who want to pursue the path to the European Union and bring about democracy and an open society to participate in the development of the country," stressed Beitnere‑Le Galla.
The Deputy Speaker of the Saeima called on the Ambassador to deepen the economic cooperation of Latvia and Ukraine, highlighting parliamentary cooperation as an additional way to build new bridges, as it helps to establish mutual trust.
Discussing the plans to launch the international Crimean Platform, the Deputy Speaker and the Ambassador agreed that the Platform would help keep the issue of Russia's illegal annexation of Crimea on the international agenda.
Saeima Press Service