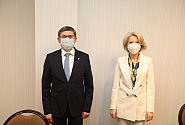 We applaud the determination of the newly-elected Parliament and the government of Moldova to implement a large-scale programme of democratic reforms. Latvia firmly supports deeper integration of Moldova in the European Union (EU). We are prepared to strengthen bilateral cooperation with Moldova, as well promote the relations between the EU and Moldova, reaffirmed Ināra Mūrniece, Speaker of the Saeima, in her meeting with Igor Grosu, Speaker of the Parliament of the Republic of Moldova.
"We would be happy to inform the parliamentarians of Moldova about the work of the Saeima, the adopted reforms, and best practices in areas that are topical for you now," said Mūrniece, urging the development of wider dialogue between the parliaments and parliamentary committees of both countries. One specific area of cooperation, highlighted during the meeting, is the implementation of the administrative-territorial reform.
Moldova has been prioritised in Latvia's development cooperation policy. Passing on our experience and best practices of transition and integration in the EU to Moldova has the potential of attracting the support of Latvia, as well as relevant EU programmes and other international support measures, said Speaker Mūrniece.
Igor Grosu was elected Speaker of the Parliament of Moldova on 29 July 2021.
Speaker Mūrniece is currently attending the European Conference of Presidents of Parliament in Athens, Greece. The conference hosts an exchange of views on the fight of democratic societies against the public health crisis caused by the COVID-19 pandemic, the right to a healthy and sustainable environment, and the shared future of European citizens.
Saeima Press Service