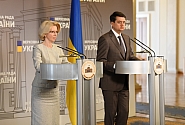 The Ukrainian people have chosen to follow the path of democracy and Euro-Atlantic integration. It is a choice for which you have paid the highest price – in human lives. This choice must be respected, and we are here to confirm that Ukraine can always count on steadfast support from Latvia, emphasised Ināra Mūrniece, Speaker of the Saeima, at a meeting with her Ukrainian counterpart Dmytro Razumkov during an official visit to Ukraine.
The Speaker of the Saeima reiterated Latvia's unwavering support for Ukraine's sovereignty and territorial integrity. Our country condemns Russia's provocative actions aimed at destabilising the situation in Eastern Ukraine and the Black Sea region. The policy of sanctions and international pressure against Russia is effective and must be continued, said Mūrniece, emphasising that we are closely following the security situation in Eastern Ukraine and whether Russia is fulfilling its commitment to move its armed forces.
Speaker Razumkov expressed gratitude for the assistance provided by Latvia and admitted that Latvia's strong support was felt not only in words but also in deeds, including in providing rehabilitation to Ukrainian soldiers and supplying humanitarian cargoes to the regions affected by warfare.
The Ukrainian side also underlined the importance of Latvia's support within international parliamentary organisations, especially in the Parliamentary Assembly of the Council of Europe and the Baltic+ group established within its framework. This serves as a platform for Latvia and Ukraine, along with other like‑minded countries of the Council of Europe, to continue close cooperation aimed at ensuring that Russia takes responsibility for its obligations.
The Speaker of the Saeima expressed satisfaction that a group for the support of the International Crimean Platform has just been established in the Latvian Parliament. This initiative serves as a valuable framework for keeping the topic of the occupation of Crimea on the international agenda.
Speaker Mūrniece called on Ukrainian parliamentarians to continue democratic reforms, which are the only viable long‑term strategy for Ukraine to move closer to the European Union. She reaffirmed Latvia's support for the reform process and stressed Latvia's willingness to share its experience in the area of reforms both within the framework of international projects and bilaterally.
In Kiev, the Speaker of the Saeima also met with the Minister of Foreign Affairs of Ukraine Dmytro Kuleba, as well as Defence Minister Andriy Taran.
The Saeima delegation laid flowers at the Memorial to the Unknown Soldier and the Holodomor Memorial.
During the visit, Speaker Mūrniece is accompanied by Juris Rancāns, Chair of the Defence, Internal Affairs and Corruption Prevention Committee, and Ojārs Ēriks Kalniņš, Deputy Chair of the Foreign Affairs Committee of the Saeima.

Photos: https://www.flickr.com/photos/saeima/albums/72157719219146742
Copyright: https://www.saeima.lv/en/copyright
Saeima Press Service