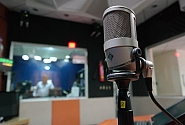 On Thursday, April 29, the Saeima adopted amendments to the Electronic Media Law, stipulating the right for the National Electronic Media Council (NEPLP) when issuing a broadcasting authorisation, to evaluate the activity of electronic media during the term of the prior broadcasting authorisation, and where appropriate, to refuse broadcasting authorisation.
"Amendments to the current regulation have been made to promote competition among electronic media and strengthen the accountability of broadcasting authorisation holders, as they use limited state resources – radio frequencies," said Artuss Kaimiņš, Chair of the Human Rights and Public Affairs Committee of the Saeima, responsible for the progress of the draft law. He noted that representatives of the NEPLP, Ministry of Culture, Latvian Association of Broadcasting Organisations and Latvian Association of Commercial Radio Stations were involved in drafting the amendments.
No later than five months before the expiry of ongoing broadcasting authorisation, the NEPLP will decide on either granting the electronic media broadcasting permit without tender or denying it. The decision will be based on the evaluation of significant violations of the sectoral regulatory enactments, as well as the information provided by public authorities on the threat to national security, public order or safety caused by its activities during the last year of operation of the electronic media after the receipt of the application for broadcasting authorisation.
Broadcasting authorisations that expire in 2021 will be extended by two months. The electronic media will have to submit an application to the NEPLP for a new broadcasting authorisation without tender this year no later than two months before the expiry date of the broadcasting authorisation. The NEPLP must take a decision on issuing or denying the broadcasting authorisation no later than one month before the expiry of the broadcasting authorisation.
The law also provides that if the electronic media does not obtain the broadcasting authorisation within six months of the entry into force of the decision on the outcome of the tender or the decision on the extension of the coverage zone, or does not commence its operation within twelve months, the National Electronic Media Council will be able to revoke the decision.
With amendments, the broadcasting authorisation period has been shortened to eight years instead of the previous ten years. It is also stipulated that electronic media will be able to change the basic audio language to the state language for the duration of the broadcasting authorisation.
The amendments will enter into force on the day following their promulgation.
Saeima Press Service