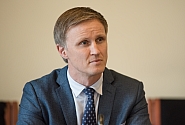 On Tuesday, 23 March, members of the Foreign Affairs Committee of the Saeima had a remote meeting with Leonid Volkov, representative of Alexei Navalny, to discuss the current situation in Russia regarding human rights and support to civic society.
"We closely follow the current events in Russia concerning Alexei Navalny. Russia continues to blatantly ignore its international commitments and commit flagrant violations of human rights," stressed Rihards Kols, Chair of the Foreign Affairs Committee, outlining to Leonid Volkov the mechanism of European Union (EU) sanctions against Russia.
Latvia has made its position very clear—we support the civic society and democratic opposition in Russia, and there is a Group for the support of civic society in Russia in the Latvian Parliament, expressed Kols, noting that EU sanctions should be tightened further.
Volkov thanked Latvia for its support and firm stance regarding EU sanctions. He underlined the necessity of continued support and pressure of the international community in order to free Alexei Navalny and other political prisoners.
Members of the Foreign Affairs Committee drew attention to the impact of the situation in Russia on the security of Latvia and the Baltic region, expressing that the EU should stand united and cooperate with the United States of America in this respect. The participants of the meeting also discussed opportunities for future cooperation and actions that the international community could take against Russia's present regime.
Saeima Press Service