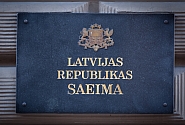 On Thursday, February 27, the Saeima adopted in the final reading amendments to the Office of the Prosecutor Law and the Law on Judicial Power, which change the procedure for selecting and appointing the Prosecutor General.
As Juris Rancāns, Chair of the Defence, Internal Affairs and Corruption Prevention Committee, which is responsible for advancing the amendments in the Saeima, emphasised earlier, it is important to improve the selection procedure by the end of the term of the current Prosecutor General.
The amendments set out to expand the range of candidates for the post of Prosecutor General by stipulating that a person who has reached the age of 40 and has served as judge or prosecutor for 15 years may also become a Prosecutor General.
The Prosecutor General will henceforth be appointed on the proposal of the Judicial Council, rather than President of the Supreme Court. The Judicial Council may only propose a candidate who meets the requirements stipulated in the Law on Official Secret, which must be fulfilled in order to obtain a personnel security clearance for access to the official secret.
The Judicial Council will have until 1 April 2020 to approve the terms of reference for selecting candidates for the post, as well as to lay down the candidate assessment procedure and criteria.
According to the amendments, the post of Chief Prosecutor in the same organisational unit of the Prosecutor's Office may not be assumed for more than two consecutive terms.
Saeima Press Service