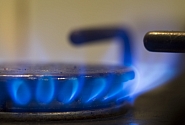 On Thursday, 17 October, the Saeima in the final reading and as a matter of urgency adopted the amendments to the Energy Law, with the goal of overcoming obstacles to the creation of a regional natural gas market and ensuring that the common entry-exit tariff system of Finland, Estonia and Latvia is operational from 1 January 2020.
"It is an important step, one towards which we have been working for a long time. Therefore, urgent action and the introduction of a common natural gas market is needed to provide consumers with quality service and a better price for natural gas," noted Jānis Vitenbergs, Chair of the Economic, Agricultural, Environmental and Regional Policy Committee, which is responsible for the progress of the Draft Law in the Saeima. Vitenbergs also emphasised the importance of the Draft Law for the Inčukalns underground gas storage. The opening of the market would remedy a problem observed in the previous years, namely, that the Latvian market does not ensure full use of the storage and it is filled only partially.
According to the annotation of the Draft Law, the common regional natural gas market presumes the cooperation of its member states in order to integrate the national natural gas markets into one or more regional levels.
Until now, the Energy Law did not authorise the regulator to approve regulations for the use of the natural gas transmission system that would be applicable to multiple countries. The Law has been supplemented with an additional section that grants such a right to the regulator and allows the natural gas transmission system operator to agree on the creation of a common natural gas transmission entry‑exit system with natural gas transmission system operators from another European Union member state, provided that the regulations for the use and balancing of the system and the procedure of mutual compensation among the transmission system operators are harmonised.
The common natural gas transmission entry-exit system of Finland, Estonia and Latvia is expected to become operational on 1 January 2020.
Saeima Press Service