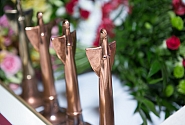 On Friday, 11 October, an international panel of judges, having gathered at the Saeima and assessed the nominees for the Baltic Assembly (BA) Prize, decided to award the 2019 BA Prize for the Arts to conductor Normunds Šnē for his performance at the concert in honour of the centenary of the Baltic States with the Chamber Orchestra "Sinfonietta Rīga" and Tallinn Chamber orchestra - event that took place at the Baltic Sea Festival in Stockholm last year
Meanwhile, the Prize for Science will be awarded to Professor Jūras Banys from Lithuania for his outstanding contribution to science by carrying out research in ferroelectricity and phase transitions.
BA Prize for Literature will be awarded to Estonian author Leelo Tungal for her autobiographic trilogy "Comrade Kid," with a special emphasis on the last book of the series "A Woman's Touch" and its depiction of the Stalin era is through the eyes of a child.
The monetary value of each prize is EUR 5000. The prizes will be awarded at the BA Prize ceremony to be held in Riga on 28 November during the annual BA session.
The panel of judges included nine experts in literature, arts and science from Estonia, Lithuania and Latvia.
Other candidates nominated for the Baltic Assembly Prize included:
In Literature:
Andris Akmentiņš (Latvia), nominated for his novel "Teachers";
Kristina Sabaliauskaitė (Lithuania), writer, known for her multi-layered, sensual prose, dense with cultural references and innovative in a multitude of ways;
In the Arts:
Martti Helde (Estonia), director, known for his unconventional approach that forces the viewer to truly contemplate and engage with his films; nominated for his feature film "Scandinavian Silence," in which aspects of human psychology and reticence are explored;
Gražina Arlickaitė (Lithuania), nominated for her achievements in culture and analyses of Baltic and Nordic films;
In Science:
Arnolds Laimonis Klotiņš (Latvia), musicologist, nominated for his monograph "Music in Post-war Stalinism: Latvian Music Life and Creativity 1944-1953";
Anne Luik (Estonia), Professor Emerita, nominated for her inspiring dedication and outstanding work as a scientist and organiser in the development of organic farming, plant protection and organic production not only in Estonia, but also in the whole Baltic region, as well as for her contribution to raising public awareness and promoting education.
The Baltic Assembly Prize was established in 1994 and since then has been awarded to many prominent figures in the fields of culture, science and art. Last year, the Prize for Literature was awarded to Latvian writer Gundega Repše, the Prize for the Arts to Jurgita Dronina from Lithuania, whereas the Prize for Science was awarded to researcher Els Heinsalu from Estonia.
Photo: https://www.flickr.com/photos/saeima/albums/72157711284501751
Disclaimer & copyrights: https://www.saeima.lv/en/copyright
Saeima Press Service